We offer a variety of cleaning services including: stain removal, deodorizing & pet odour removal, water damage, mold & mildew removal, and much more!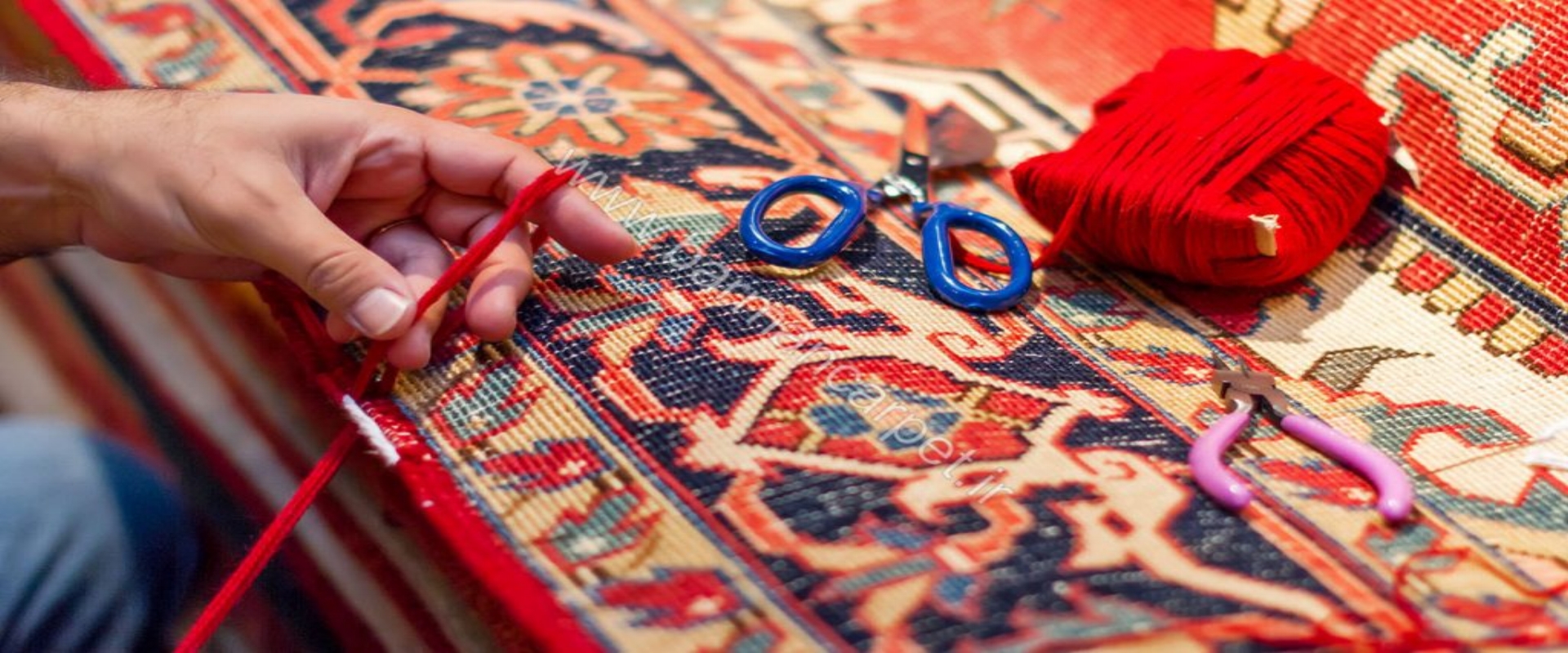 Any type of rug damage can be resolved with a professional restoration. We offer: reweaving, fringe replacement, re-dying, resizing, and much more!
cleaning your rug
Area rugs are meant to be walked on; the are made to be durable. But they are not invincible; when it comes time for cleaning, it should be done with care. Over time, dust can become embedded in the rug's fibers causing them to become packed and matted. These particles can cause a rug's fibers to become brittle and sensitive to damage, impacting the appearance, life and value of your rug. Proper cleaning rids a rug of these particles and restores a rug's luster. And we love our rugs with buster.
We recommend rugs to be professional cleaned every 2-5 years. Area rugs specifically require a unique cleaning methodology that is very different from standard carpet cleaning that is normally done at home.
In short: rug cleaning is complex. The appropriate treatment for a given rug is determined by its weave, age, condition, and the type of dirt found on it. Our skilled staff have the required knowledge of oriental rugs and hands-on cleaning experience to ensure the best care and cleaning of your rugs.
We treat your rug with respect as an art form and protect its artistic and intrinsic value.
Serapi RUG CLEANING PROCESS
The process of area rug and carpet cleaning starts with measuring the rugs. At this time the area rug is inspected for any areas which may require special attention. Each area rug is treated with the attention needed to preserve the vibrancy of the dyes, the suppleness of the fibers and the integrity of the hand-tied knots. Our cleaning specialists use traditional techniques and environmentally friendly process to revive the colors and textures of your carpet. Rugs with silk threads, cashmere and various delicate fibers such as tapestries, silks, jute and hemp rugs are best cleaned by hand. This process is less impact full on delicate fibers.
SERVICES:
Stain removal
Deodorizing and pet odor removal
Mold & mildew removal
Scotchgard
Fire and water damage cleaning
Repair & restoration
Just about any damage has a solution with a professional restoration. The early repair of your rug is necessary in preserving its beauty and value. At Serapi, we employ traditional Persian practices that are centuries old to preserve and restore your rug. Using yarn of the closest match in fiber and dye to your hand-knotted rug for invisible repair. Our native artisans deliver superb quality service in the industry to attain outstanding results. Call for your free estimate.
Cutting, resizing and binding

Repairs of rips, slits and tares

Preparing rugs for wall-hanging

Adding leather on the back sides of the rug

Stretching and blocking due to shrinkage

Restoring and re-dying dyes

And many more
Antique and new rug restoration

Rug reweaving

Repair and replacement of fringe

Fixing holes and worn spots

Binding and overcasting

Restoring worn corners and sides

Restoration of moth and water rot
DEODORIZING & MOTH PROOFING
Oriental Rug Deodorizing
No one likes a smelly rug. We us a mildew, fungus, and bacterial treatment for removing the source of odors from pets, mildew, and more. We DO NOT us a perfume to mask the odor. Smoke and soot odors from fires and furnaces can be specially treated.
Wool Protector
We have used Scotchgard™ for many years and have had excellent results. It is very helpful in preventing permanent staining, and will help to make regular vacuuming more effective by removing more soil.
Color Run Removal
Color runs occur when a color becomes fugitive and bleeds into adjacent colors. They are commonly caused by liquid spills or water leaks in the home. In most cases, we are able to remove such color runs, restoring significant value to a rug.
Pet Problems
Oriental rug pet accidents can cause permanent damage to the wool fiber or dye, especially if left untreated. By doing special enzyme soaks and intense rinsing along with treatment to remove the source of odor, we can prevent these contaminants from causing further damage. Stain removal and color restoration are sometimes possible.
Blocking
Occasionally rugs, Aubussons and Needlepoint carpets come out of shape (they're not great at keeping up with their New Year's resolutions). Rugs which have a flaw in their weaving may not lie flat on the floor. Utilizing a specialized technique of carefully stretching the carpet we can rectify these types of problems.
Moth Protection
We DO NOT use pesticides. This is important. This treatment involves treating the wool with a substance, which results in the larvae rejecting the taste of the wool, removing them from the rug.
Need your rug serviced but don't want to schlep it in? We've got you covered! Contact us today for an estimate on pickup and delivery for your rug. Certain restrictions apply.
Padding
A quality pad provides a protective layer between the rug and the floor. It minimizes slippage, makes it feel thicker and more luxurious, as well as absorbs noise. Most importantly it increases the life of your rug. We carry different types of padding designed for various floors and rugs and are happy to advise you on which pad is best for your application.
Appraisal
Learn more about your rugs! We regularly prepare rug appraisals for private clients, estate executors and insurance companies. Today, most insurance companies require proper documentation of your rug's retail value. It is suggested to have your rugs appraised every three to five years. Each rug is comprehensively described based on our experience in the international market to include origin, design condition, dimension, provenance and replacement retail value.